From atop its 35-foot marble arch, the iconic equestrian statue of Sam Houston has guarded Hermann Park so long—since 1925—it's hard to believe that its installation was once controversial. Among its detractors were Houstonians who still castigated Sam, more than 50 years post-Civil War, for his steadfast allegiance to the Union cause. (They likely preferred the park's statue of loyal Confederate cannoneer Dick Dowling.) Others disliked the monument on aesthetic grounds, notable among them Sam's last surviving son, Sam Jr., who groused that his father's statue looked like "a monkey of a man straddling a jackass." 
Video: Newsfix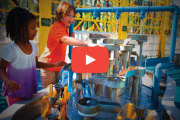 There's big fun to be had this summer in the heart of the city, Houston's Museum District.
We happen to disagree with Junior, and the tourists are apparently on our side: the stately bronze monument has been a perennial postcard favorite. And this year, at last, thanks to the Hermann Park Conservancy, the statue's surroundings will finally match it in grandeur. To celebrate its centennial, the park's main entrance, the Grand Gateway, is getting a complete makeover, with new and more extensive landscaping between the Mecom Fountain and the statue, plus new sidewalks, benches, bike racks, and lighting. And that's just one of many changes visitors will see in the months ahead, the culmination of 22 years of effort on the part of the Conservancy, a nonprofit citizens' group in a public-private partnership with Houston Parks and Recreation that has raised $115 million for the steady improvement of the park. Many of the plans being realized today, by the way, were part of the original vision for the park but never realized thanks to WWI, WWII, and various recessions; as any Houstonian knows, beautification hasn't always been the city's foremost priority, even in times of plenty.
Already completed as part of the plan are the restored Japanese Gardens, the renovated Jones Reflection Pool and McGovern Lake, the creation of Lake Plaza as a bridging space between the park and the Houston Zoo, and improvements to the Brays Bayou hike-and-bike trails. The Conservancy also upgraded the park's rinky-dink, if beloved, miniature train with new and better cars and extra stops along the route, and installed Trenton Doyle Hancock's colorful, fantastical Destination Mound Town artwork in the train tunnel, one of many temporary installations the Conservancy has scattered about the park's 445 acres.
Also in the works: the 15-acre Hermann Park Garden Center is being completely renovated as the McGovern Centennial Gardens. Some of the old elements, like the rose garden, will remain, and a sculpture promenade will be added, along with a children's garden, a great lawn (this one the size of a football field, and crowned by the beautiful Chinese Pavilion), a Centennial Green, and a woodland garden. But not all the changes are aesthetic. A new adjacent parking lot is also in the works, one that will further encourage visitors to enjoy the very special public space that is Hermann Park—an oasis of tranquility in the increasingly frenetic heart of the city.