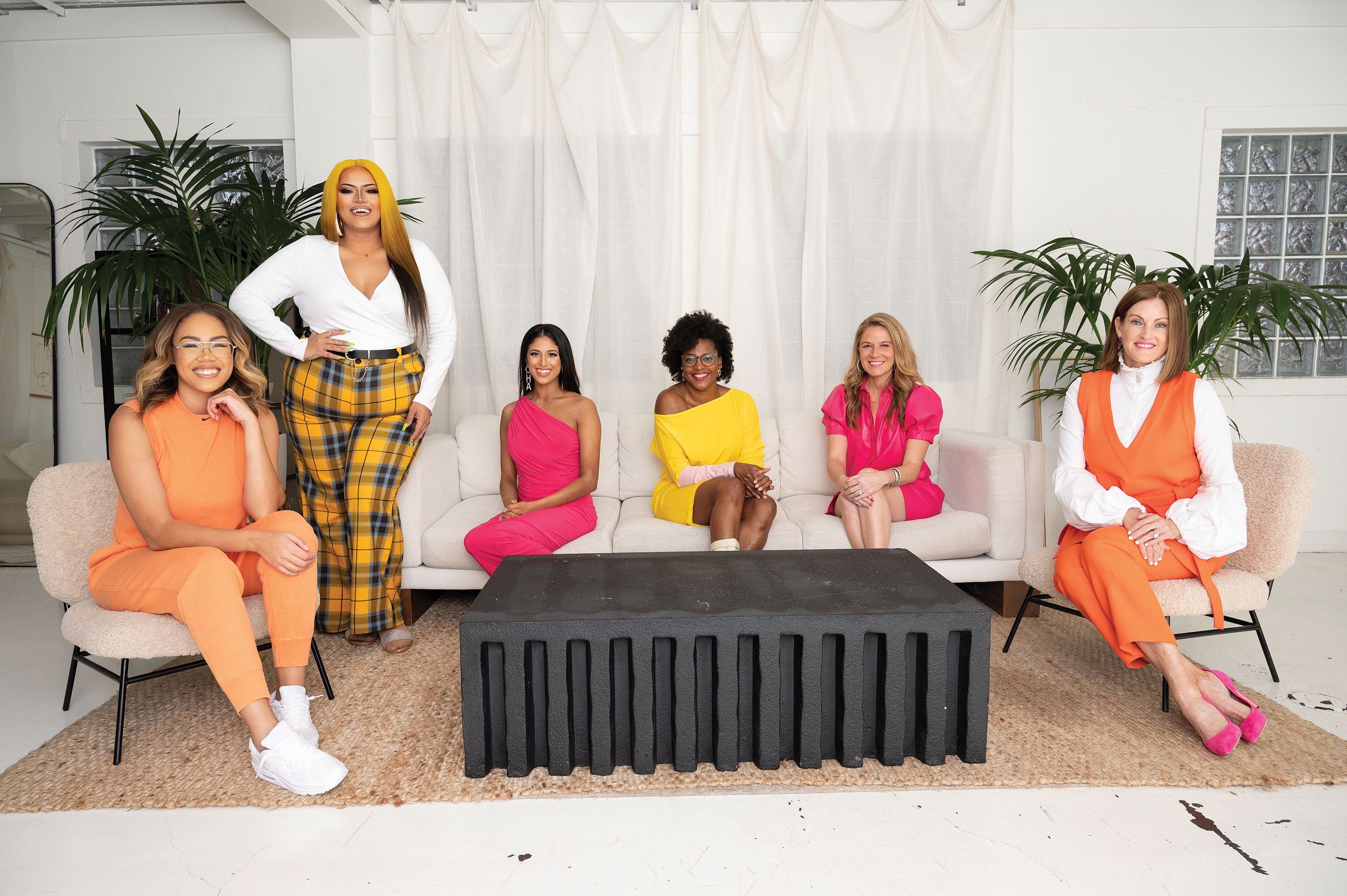 International Women's Day
The Ladies Who Keep Houston In Motion
Here's who is making change in the city.
In 2011, Houston-born Beyoncé Knowles-Carter released "Run The World (Girls)," cementing itself as the female-empowerment anthem for women. Fast forward to 2022. Houston women have broken down barriers, solidifying their presence and taking charge in spaces that keep the city in motion. Co-founding family Stephanie and Katie Tsuru, business owner Tausha Sanders, renowned chef Dawn Burrell, fashion influencer Nicole Mehta and LGBTQ+ activist Adriana LaRue have all influenced the city through their women-led collaborations, inspiring achievements, and by amplifying their voice to support and champion those in need.


Tausha Sanders, Her Grails founder
After 10 years of retail experience, including a fashion marketing degree and a media manager position at Sneaker Summit, Her Grails founder Tausha Sanders (@taushaquan) is utilizing her platform to educate and inspire women. Sanders, along with event coordinator Wendy Franklin, hosts monthly events in collaborations with Graceful Laces for the Sneaker Charity Ball, Tipping Point Coffee for the Kicks & Coffee mixer, and The Fomo Factory for Air Max Day, a celebration of women and their favorite pair of the Nike Air Max sneakers.


Nicole Mehta, Fashion Blogger
With an Instagram following of 124,000, it's clear that Nicole Mehta (@nicolemehta) is a force in Houston's style scene. Technology consultant manager by day and fashion blogger by night, the social media influencer serves up style through her shopping hauls, fashion guides, and wellness how-tos, creating a mood board for a trendy lifestyle. The graceful millennial has also been featured in high-profile publications such as PopSugar, where she was named one of the top 50 South Asian Influencers bringing representation to fashion. She was also selected by Instagram to try its latest shopping initiative to bring a seamless affiliate experience to its users.


Dawn Burrell, Chef
The dishes made by Houstonian chef Dawn Burrell (@chefdawnburrell) have helped build an extensive resume for the culinary artist. She caramelized her career on Bravo's critically acclaimed series Top Chef competition. After making it to the finals in Season 18, the alumna makes an iconic comeback appearance as a guest judge for Season 19. In 2020, Burrell became a semifinalist of the James Beard Foundation Award for "Best Chef: Texas" and can always be found at the city's historic restaurant Lucille's cooking up classic, heavenly, Southern cuisine.


Stephanie and Katie Tsuru, SheSpace Founders
The philanthropy of Stephanie (@stephaniektsuru) and Katie (@katielady427) Tsuru has been widely recognized in Houston. The family duo founded SheSpace, the vividly designed coworking office located in The Heights, providing an inclusive safe space for women to network and work freely. Together, along with SheSpace members, they host monthly workshops focusing on entrepreneurship and mental health, creating an environment for women to learn and build connections. Stephanie Tsuru is also an executive board member to three of Houston's leading foundations: the Hermann Park Conservancy, Houston Ballet, and the World Affairs Council.
Adriana La Rue, Trans Activist
Fierce poses, electrifying glam, and an infinite amount of colorful wigs are what you'll see scrolling through the Instagram of trans activist Adriana LaRue (@adrianaxox2). The drag superstar has traveled across Houston to New York City performing top-of-the-line lip-synching and advocating for the LGBTQ community, especially trans lives. Whether she's exuding a powerful stage presence in a shimmery violet dress and latex boots or modeling in a dynamic blue bodysuit with futuristic space buns, LaRue brings a captivating omnipresence from nightlife to showtime.