Ice House Interview
Interview: Jennifer Mathieu, Author
A new young-adult novel aims to tell the truth about "sluts" and "players".
"I do this lesson on taboo language," says Jennifer Mathieu, and for a moment we expect the English teacher to begin cussing a blue streak between sips of Stella Artois at West Alabama Ice House. But the language referred to by Mathieu, who is also a writer of young-adult fiction, is at once more benign and more deadly. "I ask them to think of all the negative words that we use to describe a woman who is promiscuous, and all the negative words that we use to describe a man who is promiscuous, and they can't come up with anything for the man, besides, you know, 'player.'" 
This leads us to the topic of slut shaming, perpetrated upon women by members of both sexes, not only women who have broken society's rules for acceptable behavior, but those whose behavior or clothing suggests that they might. 
As it happens, slut shaming is the central theme of Mathieu's page-turner of a first novel, The Truth About Alice, published this month by teen imprint Roaring Brook Press. In it, the eponymous heroine becomes an outcast when rumors begin circulating through the small (and fictional) Texas town of Healy, rumors that Alice slept with two boys in one night at a party. Worse, she also stands accused of sexting with one of them later in the evening, a star quarterback so distracted by the messages that he loses control of his car and is killed. Thus, Mathieu's central figure is not merely a slut but a homicidal slut, or so it appears at the outset. The, um, truth about Alice is revealed in succeeding chapters narrated by the heroine's classmates, including a popular mean girl, Alice's former best friend, a football player, and the town nerd.
The book's characters are finely shaded, uncommonly so for this genre. Indeed, The Truth About Alice is finely shaded all around, as befits the complicated and confusing lives of teens, which Mathieu portrays with depth and honesty.
Video: Newsfix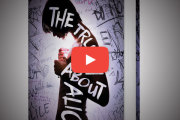 Houston teacher Jennifer Mathieu writes her first novel, addressing the issue of "slut shaming" in schools.
"My whole feeling about working with teenagers, both teaching them and writing for them, is that they can smell hypocrisy from miles away," she says. "So I don't treat them like adults, but I treat them like real people with real problems, thoughts, and issues. You know, some teenagers drink and some teenagers don't, some teenagers have sex and some teenagers don't, some teenagers are victims of bullying and some teenagers are bullies." 
What, one wonders, does The Awty International School, where Mathieu teaches middle and high school students, think of her novel? "I haven't kept it a secret or anything," she says, adding that "the school has been super-supportive." This past spring, Mathieu passed around an advance copy to some of her older students ("it's not something I would encourage my middle school students to read until they're a little older"), and the reactions were positive. One even called it the "most authentic teen dialogue she'd ever read," and for Mathieu, that was "better than any Kirkus review." 
Of course, the other truth about The Truth About Alice, and young adult lit in general, is that grownups devour it too. (We may have stayed up way too late recently, finishing the book in one go.) Why would an adult want to read about teenagers? Maybe because the experiences of high school—when "everything is heightened and important," as the author puts it—stick with you forever. 
But do they define everything that comes afterward? Not in Mathieu's case. A child of schools in the Washington, DC area during her formative years who now lives in Westbury with her husband and son, Mathieu seems to love her life. Now, that is. "My students know high school was really hard for me," she says. "Sometimes I think they're going to be like, was she Alice? I'm like, uh, no. For one thing I didn't even have a boyfriend until I went to college."