Starry Eyed
An Evening in Space, Starring George Clooney
An occasional dissection of the social scene
Event
Omega SA celebrates the 45th anniversary of Apollo 13 on May 12.
The Challenge
Hoping to achieve a perfect combination of brand, civic and Hollywood synergy, Omega Watches endeavors to turn an airplane hangar in Sugar Land into the most glamorous place in town on this Tuesday night.
The Bait
George Clooney, whose appearance just happens to coincide with the release of the actor's latest blockbuster, Tomorrowland.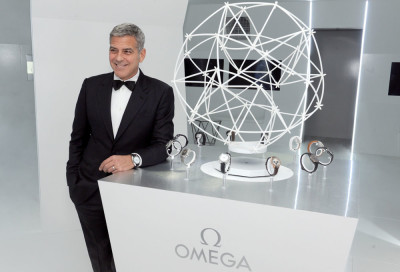 Connection
The first watch ever worn on the moon was an Omega Speedmaster. George Clooney is the Omega brand ambassador. He also has a big movie opening in a few days.
Other Connection
Sexy space cadets direct 300 guests through a tunnel into a white, octagonal cocktail area resembling Space Mountain, which is in the Disney parks' Tomorrowland, which is the name of the big George Clooney movie opening in a few days. 
Evening Highlight
Rumbling sound, space doors open to reveal a cavernous dining room made over in lunar landscape drag. A single path cuts through a rocky moon-ish terrain into a central dining space. The surface of the moon is etched onto dinner plates, silverware has the rough texture of a moon rock, and centerpieces feature tiny spinning asteroids strapped to Omega watches, which are sadly not party favors. (We checked.) There are twinkling lights and asteroids projected onto walls. It is spectacular. 
Other Evening Highlight
Another rumbling sound, Clooney enters in a puff of space fog, does his best to bestow some of his glow on the astronaut guests of honor, Tom Stafford, Gene Cernan and Apollo 13 commander Jim Lovell. Clooney reminisces with Lovell  about the glory days of the space program.
The Takeaway
"It was a huge part of the optimism at the time, when you really believed that anything was possible," Clooney opines. "If you go and look at that actual spacecraft, the idea that anyone got into it is crazy. It's like getting into a '57 Chevy and saying, 'I'm going to take it to the moon and back.' It's just the bravest thing I've ever seen in my life."
The Other Takeaway
The difference between a television star and a movie star: A pair of guards protects Clooney from being harassed by guests during the dinner. No similar protection is offered Yvonne Strahovski and Joanna Garcia Swisher, stars of ABC's The Astronaut Wives Club. In consequence, the women smilingly endure endless selfies with fans.